En märklig midsommar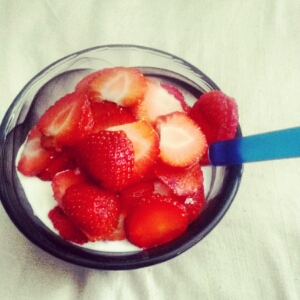 Mina skov har en tendens till att komma när jag blir ledig och kan slappna av. Det är en anledning till att jag måste hålla mina stressnivåer på en någorlunda jämn nivå, åtminstone den negativa stressen. Positiv stress har jag inte prövat på i allt för stor eller långvarig utsträckning.
Efter att jag efter många om och men och en hel det krångel lyckades lämna sjukhuset i Kristianstad igår efter lunch, with a little help from my friends of course, har jag ätit bra, sovit gott (om än artificiellt) och gjort i stort sett inget alls.
Maten jag behöver äta för att hitta tillbaka till balans är utan raffinerat socker, kolhydrater eller stärkelse. Den måste också vara lätt att smälta, inga baljväxter och tillagade grönsaker.
Färska skivade jordgubbar med keso och grekisk yoghurt, sötade med lite stevia är dagens favorit. Färgglatt, rent och gott!
---
---